Wine Labels for Weddings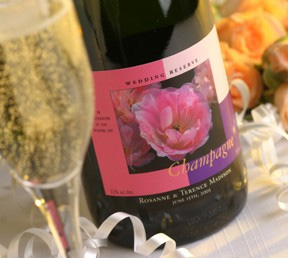 When it comes to planning a wedding, every last detail typically goes through a painstaking amount of planning, from the table placements, all the way to the flowers that adorn the wedding arch. Why not give your wine bottles the same care and attention by personalizing your bottles with custom wedding wine labels to add the perfect personal touch your wedding celebration? With a variety of beautiful designs available to choose from, you can make sure that your wine bottles are the perfect expression of the your own unique taste.
Check out our Wedding & Romance wine labels category to select from one of our beautiful design templates, or see our Add a Photo/Logo wine labels category where you can add a special photo to any of the wine label designs.
Have your own special design that you'd like to use? Check out our Submit Your Design category to upload your own design for us to print and ship.